The Last Ten Books I Bought (and why)
It's been a while since
my last post like this
, so here we go, the last ten books I bought (and why I bought them):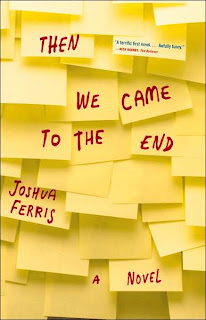 THEN WE CAME TO THE END by Joshua Ferris
This book got stellar reviews when it was released, not to mention said reviews reminded me of Max Barry's COMPANY, which was one of my favorite books of 2006. I started this last night and am very into it so far. Who gives a crap about whether this book hit the printed list? Word of mouth seems to be so good that it'll end up outselling many books that do.
NO HUMANS INVOLVED by Kelley Armstrong
Confession: I read DIME STORE MAGIC when it was on submission, thought it was fantastic, my bosses didn't see it, I wasn't very familiar with the genre and another house ended up buying it. Now? Armstrong probably has a dump truck pulling up to her house every day with manuscripts for blurb solicitation. Armstrong also has an interesting backstory, starting out in hardcover, breaking out writing paperback originals, then moving back to hardcover. So this is her first hardcover in several years, and I had to jump on board, if only to selfishly feel like I knew she was good before most of the world.
THE BLUE ZONE by Andrew Gross

This book was bought for a ton of cash, and since the author has co-written several books with James Patterson he's well-versed in that bestselling formula. I haven't read many reviews so this was something of a "curiosity" buy. It also has one of the most elaborate covers I've ever seen (flashy metallic ink, embossing to resemble water droplets, etc...).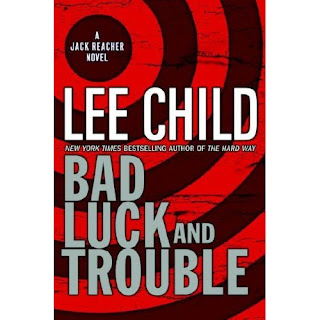 BAD LUCK AND TROUBLE by Lee Child
It's the new Jack Reacher. Nuff said. (Did you know Chuck Norris checks his closet every night for Jack Reacher?)
TERM LIMITS by Vince Flynn

I read CONSENT TO KILL a few months ago, my first Flynn novel, and though political thrillers generally aren't my thing I really enjoyed it. Several "I can't believe he did that" twists that worked. Anyway, I decided to pick up Flynn's first book to see where it all began. Did you know Flynn self-published TERM LIMITS because he couldn't find a publisher?
This debut dark fantasy novel got a lot of good buzz, and I met the author at the RT convention. She was incredibly nice, and actually worked as a showgirl in Vegas. So dark fantasy+cool author+knowledge of the Vegas scene+sweet cover=easy purchase.
My in-laws were HUGE fans of THE RUSSIAN DEBUTANTE'S DAUGHTER, so I got them Shteyngart's second novel as a present. I might have to steal it when they're done.

Another present, this time for my Mom, who's a big fan. And I totally didn't get it for her so I could read it afterwards. Really.
UNDEAD AND UNWED by MaryJanice Davidson
Davidson was on several panels at the RT convention, and was simply hilarious. I figured if her books were nearly as much fun as she was, they'd be a great read. So I picked up the first one in her series to find out.
This book was a smash hit in the UK, and has already spent 2 weeks on the bestseller list here. Another "curiosity" buy, since in the publishing world any surprise success spawns discussions of "why did this work?" and "can we do one for girls? moms? goldfish?"