A Few Recommendations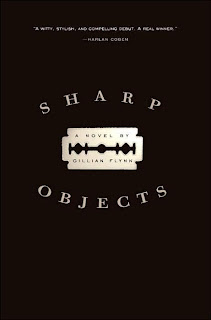 SHA
RP OBJECTS by Gillian Flynn
I'd been meaning to get to this book for a long, long time. It garnered terrific reviews, had a great quote from Stephen King, and was nominated for an Edgar. Needless to say I went in with high expectations. They were all met, and then some.
This is a wonderfully written dark,
dark
book about a female reporter who returns to her hometown to investigate the murders of two young girls, and must confront the horrific demons in her past to do so. Camille Preaker is a magnetic protagonist, fully realized, and her affliction is written about in such a vivid way that every page contains nail-biting suspense. Trust me, this is not the kind of relapse that can be helped by an AA meeting or soothing words. SHARP OBJECTS is the kind of novel where there are
no
stock characters. Everyone has a personality. Everyone has a story. And not one word or scene is wasted. SHARP OBJECTS ranks up there with Theresa Schwegel's OFFICER DOWN as one of my favorite debut crime novels of the past few years.
SNL in the 90's: Pop Culture Nation
This documentary ran last week and analyzed Saturdal Night Live from 1990-1999. It was a decade of major change for the show, as they began to appeal to a younger viewership for the first time. Some of the biggest comedians ever came through the SNL ranks during this period: Mike Myers, Chris Farley, Adam Sandler, Sarah Silverman, David Spade, Will Ferrell, Cheri Oteri, Molly Shannon, Chris Rock, and Phil Hartman. Oh yeah, and Tim Meadows. Though this isn't a great "in depth" documentary, there was a great sense of nostalgia reliving some of the funniest SNL moments of all time. I hadn't seen the Farley/Patrick Swayze Chippendales competition in years, and I nearly fell off the couch laughing. Not sure if they're still rerunning it, but if so check it out.
Slate on "The Sopranos"
A panel of pretty much everyone you could imagine, from Timothy Noah, Jeffrey Goldberg, Jerry Capici and Brian Williams (yes,
that
Brian Williams) offers their thoughts on the final season of "The Sopranos." Really funny and insightful stuff, topped off by a thorough dissection on whether Tony fits the clinical profile of a sociopath
I was thinking about this last night, and I actually came to the decision that Vic Mackey fits the description of a sociopath better than Tony Soprano. Which is ironic, obviously, as Tony is a mob boss and Vic is a cop. And yes, this is what I think about on a Wednesday night. Any thoughts?